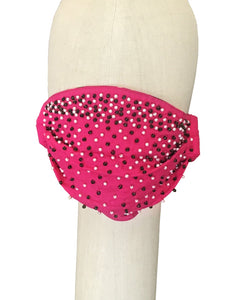 Embroidered masks hand beaded on soft vibrant rayon fabric with floral print cotton lining on the inside. Double Layer. Satin Tape adjustable around ear and extended tape allows mask to rest around the neck when not in use. Pleated fabric allows mask to extend for extra length.
Care: Delicate Hand Wash in Cold Water only
Craft: Each mask is designed in California and manufactured in our studio in Mumbai, India. Details and variations in these natural fibers make this garment entirely unique.