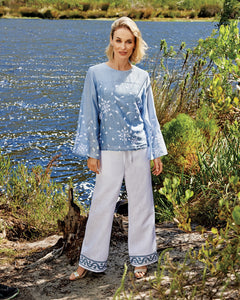 The Tapajos wide legged pants are luxuriously tailored in white linen, hand embroidered at the hem in Wedgewood Jasperware inspired motifs. It features a drawstring waist with side pockets. Perfect for a casual sunny day out.
Material:
Shell: Linen

Fit: Relaxed Fit

Model is 5'7"
Wearing size Medium
Care: Dry Cleaning only
Craft: Each garment is designed in California and produced in our studio in Mumbai, India. Details and variations in these natural fibers makes this garment entirely unique.
Style No. 1827